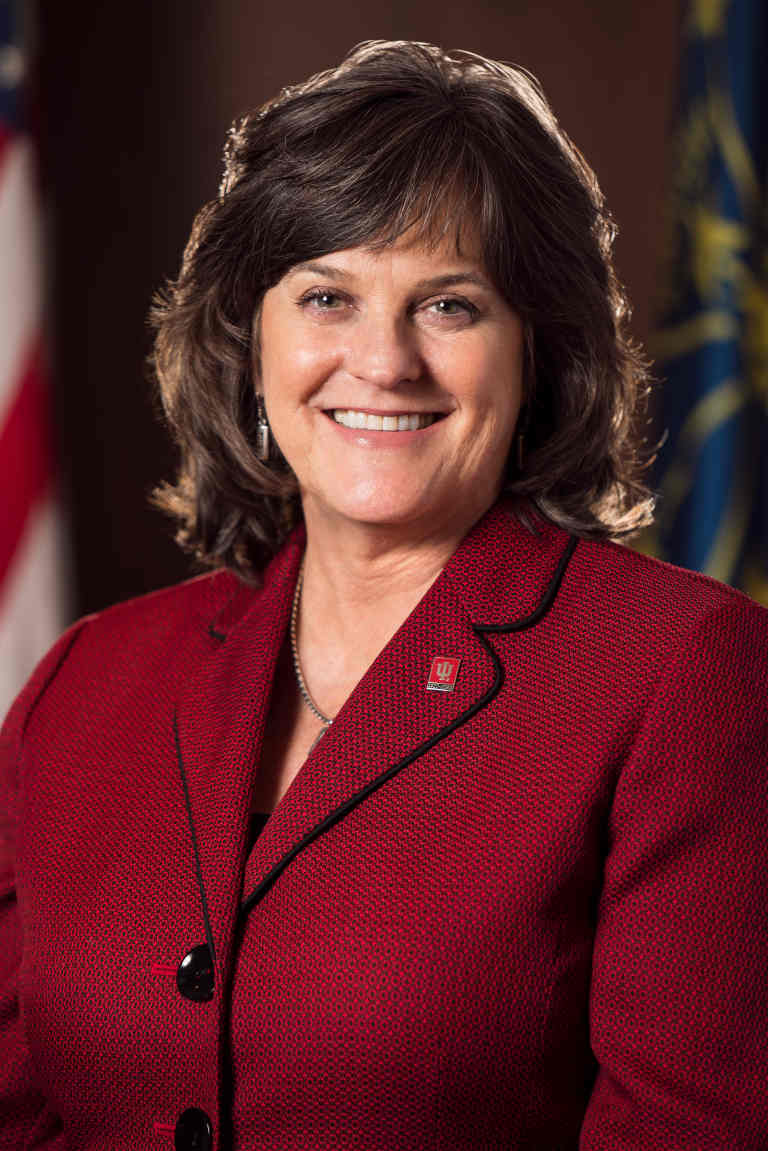 Susan Elrod began as the 6th chancellor of Indiana University South Bend on July 1, 2019. Since this time, she has shepherded the development of a new strategic plan for the campus, improved enrollment management processes, completed a $32 million Bicentennial campaign, orchestrated the purchase of a historic site to house IUSB's Civil Rights Heritage Center, formed a campus Diversity, Equity and Inclusion committee, enhanced campus communications, created more transparent budget processes, increased regional engagement and visibility, and led the campus through the COVID-19 pandemic using a shared leadership approach with minimal impact on campus community health, enrollment and budget.
Previously, she served as provost and executive vice chancellor for academic affairs at the University of Wisconsin – Whitewater. Prior to this appointment, she served as interim provost and vice president for academic affairs at California State University, Chico (Chico State). In these roles, she developed campus strategic and enrollment management plans as well as programs to improve faculty diversity and salary equity, enhance student retention, establish data-based decision-making systems, and implement technological innovations. At UW-Whitewater, she also led the university's efforts to incorporate UW-Rock County as a new branch campus. Prior to these positions, she served as dean of the College of Science and Mathematics at California State University, Fresno (Fresno State), where she led initiatives that enhanced support for research, expanded community and industry relationships, and improved persistence of students in STEM programs catalyzed by a $1.5 million National Science Foundation grant and a new advising center in partnership with Student Affairs.
Elrod is also a national leader in higher education. She served as Executive Director of Project Kaleidoscope (PKAL) at the Association of American Colleges & Universities (AAC&U) in Washington, DC where she led several multi-campus national STEM education initiatives that focused on interdisciplinary learning, sustainability, and STEM student transfer success. She also expanded PKAL's national program of regional faculty networks and led PKAL's Summer Leadership Institute for emerging faculty leaders in the STEM disciplines.
She has nearly 30 publications on topics ranging from undergraduate research to quantitative reasoning and from leadership to systemic change as well as a textbook, several scientific publications and patents. Elrod is also an active leader at the national level as a consultant for projects that focus on leading institutional systemic change. She is a founding member of the Coalition for Reform in Undergraduate STEM Education (CRUSE) and the Accelerating Systemic Change Network's (ASCN) Systemic Change Institute. In 2015, she served as the inaugural vice chair of the Gordon Research Conference on Undergraduate Biology Education. She was a member of the Indicators for Monitoring Undergraduate STEM Education committee at the National Academies of Sciences, Engineering and Mathematics. She is an active scholar, serving as PI on the NSF-funded Building Leadership Capacity project, which seeks to identify change leader competencies and create a change leadership system model to help campuses better achieve institutional change goals. This project is now the topic of a Bill & Melinda Gates Foundation-funded project. She serves as a member of the HERS Board of Directors and was recently elected as a Fellow of the American Association for the Advancement of Science (AAAS).
Elrod was a postdoctoral fellow at Novozymes, Inc. in Davis, CA and holds a Ph.D. in Genetics from the University of California, Davis and a B.S. in Biological Science from California State University, Chico.